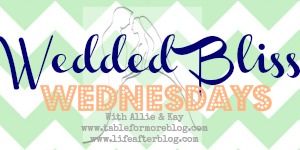 Table for More
and
Life After...
are hosting a new Wednesday linkup:
Wedded Bliss Wednesday
.I've clearly been slacking on Wordless Wednesdays (re:blogging in general), so I suppose I'll join in this fun...on a Friday... haha
Chances are, your readers know all about you! But what about your husband? Lets give our men the spotlight this week and introduce the blog world to your other half!
nearly 4 years ago!
Introduce us to your husband! (What's his name? How old? What does he look like?)
His name has never been revealed on my blog, because he thinks it's too public, and I respect that. I'll suffice it to say it starts with a J. I actually call him Fred more often. I've explained it before, but it's because once when we were dating I said, 'ready freddy?' and he said, 'who's this fred person!?' It's stuck ever since. I actually say it without thinking now, in place of his real name. It's awkward in front of other people, sometimes, because they must think I'm crazy, calling him a totally random name! LOL
He's 24.7--a full year and a month younger than me, which was totally out of character for me to date a younger guy.
He looks like me, only in guy form. HAHA...seriously though, I feel like we look like we belong together. He's about 6 inches taller than me, blonde hair, blue eyes, average build.
My husband is my partner in life, and we truly did become one when we got married. We are absolute soul mates. Any one around us would agree, there's no one better suited. You can read more about our story (And how we got married at 20/21, while still in college)
here
. (if you haven't read it, please do...I love inspiring others with out love story)
What does your husband do Monday-Friday?
More like Monday-
Saturday
, since we've been in California, I can count on my fingers the number of 'full' weekends we've had. My husband is an electrical engineer for a power construction company. He has been an estimator and a field engineer. He looks at electrical design drawings and makes them happen in real life (through the labor of union electricians). Basically, he's smart about power and things. His days have been long on this job site, and it's taken a toll on his stress and health (IMO), so I'm looking forward to more regular hours when we move back to Kansas and prepare for baby boy. Since my husband plans to take a decent amount of paternity leave, it's better for him to do that in the office anyways, since he's more expendable there.
What was the FIRST thing you noticed about your husband when you met?
His SUPER shaggy blonde hair. He looks back at pictures and wonders what he was thinking....I do too, LOL. Looks are only a small part of the attraction picture, and I'm glad I gave him a chance, because it turns out he was mostly just too cheap to pay for a hair cut. Funny story.... about a month before our wedding I basically "incepted" (as in, made him think it was his idea ;-) )that he needed to get a hair cut.
What is your husband's BEST quality?
He is patient to a fault, if that's possible. My worst quality? I'm impatient and get anxiety when things can't happen right away. We completely balance each other out. I have ALWAYS admired his patience. He doesn't get caught up on little things, takes the 'wait and see' approach, and calms my nerves. He can do things that I would typically curse at, without breaking a sweat. Another way of looking at his best quality is that he LOVES me. Because I am often in a hurry, or don't like to wait, or get flustered at things that take patience....he deals with that in a way no one else could. He is my perfect match in all aspects of life and I love him even more for it. Oh, and he's a great dad and
truly
appreciates all that I do as a SAHM :-)
What is your husband's biggest pet peeve?
Not much! Probably the Kardashians.
Sometimes our daughter's whining or screaming gets to him, despite his patience, he's admitted she can unnerve him (though it's gotten better as we've both gotten used to it)
How does your husband feel about blogging?
He likes it as long as it doesn't stress me out, or I don't get too 'personal.' He loves the 'free' things I've gotten through it, or when I get sponsored posts. I think we both like blogging a lot more, now that I've reduced the amount of time I spend on it. Before we moved, I spent way too much time trying to grow it into something huge...but that's just not for me right now, mostly because I don't want to pay to get it followers, and I certainly don't network like I 'should.'
He likes that it makes me happy to write and share stories.
What is something you do/can do that makes your husband feel loved?
Rub his feet. LOL
Make his lunch, watch shows that I don't typically enjoy, let him help me (re: ask him to do something that I'd normally take on when I already have a lot going on)